Hunting Club Spotlight
Metairie Ridge Hunting Club, 38 years of resilience and success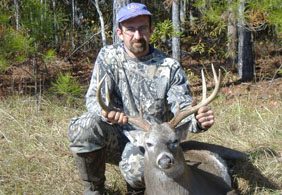 In 1974, the Metairie Ridge Hunting Club leased a tract of land located in southwest Sumter County, Alabama.The property was purchased by Gulf States Paper Corporation in 1966 and had been previously been leased to the Shorts Hunting Club. Over the last 38 years, Metairie Ridge Hunting Club has lived through many changes and challenges and now is looking forward to a bright future.
Tommy James is the current club president and has been a member of the club for 31 years. He attributes their long-term success to the club's careful process for taking in new members, safety, good family atmosphere and their successful quality deer management program.
Metairie Ridge Hunting Club has survived the challenges that have caused many other clubs to fail; several economic recessions (at least one per decade), changes in timber and deer management programs and club members dropping out for various reasons. On top of these normal hunting club challenges, Mother Nature had something else in store for this group. Most of the club members live in the New Orleans area and hurricane Katrina impacted every one of them, personally and financially. To add insult to injury, "the storm of the decade" made a path up into west Alabama and actually hit their hunting lease, toppling trees onto the camp and blocking roads.
Despite all of these challenges, the Metairie Ridge hunting club continues to provide quality hunting experiences for their membership. Many of the original members are hunting with grandchildren in the same places they hunted over thirty years ago. This property has always been a haven for wild turkeys and their quality managed deer herd has produced mature bucks anyone would be proud to harvest.
Any hunting club that has been able to last 38 years is obviously doing something right. They have a few membership openings for 2012 and interested prospects can contact Tommy James at[email protected] for membership information.