New Hunting Regulations for the 2013-2014 Alabama Deer Season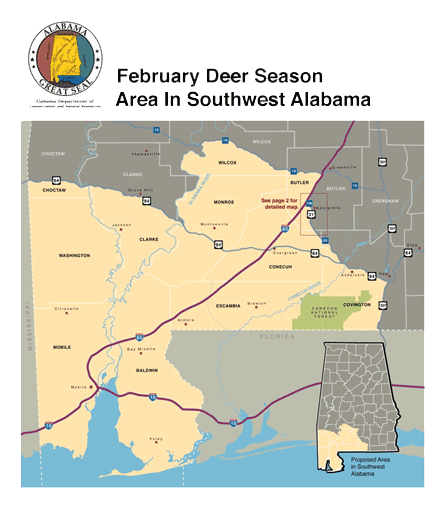 For the upcoming hunting season some regulation changes will affect hunters across the state. The new Game Check system will provide the Division of Wildlife and Freshwater Fisheries (WFF) with much needed statewide data to make and fine tune informed management decisions. Supplemental feeding of deer to increase herd health will be allowed throughout the season, but hunters will not be allowed to actively hunt deer attracted by feed.
The deer season has been extended in Southwest Alabama, Baldwin, Escambia, Mobile, and Washington Counties, and portions of Butler, Choctaw, Clarke, Conecuh, Monroe, and Wilcox Counties until February 10, 2014. Deer season will be closed in these areas December 2-11, resulting in the same number of deer days as the rest of state. This regulation was enacted due to outcry by hunters not harvesting mature bucks during the season, and backed by data collected by WFF.
A regulation for reducing the number of does that can be harvested this season in North Alabama will be in effect for 2013-2014. The restricted unantlered deer season area will allow one unantlered deer, in addition to one antlered deer per day, to be harvested during deer season.
Hunting by the use of bait is still illegal in the state of Alabama. However, supplemental feeding is now legal during hunting season. The new regulation states, "… as it applies to the hunting of deer and feral swine, there shall be a rebuttable presumption that any bait or feed located beyond 100 yards from the hunter and not within the line of sight of the hunter is not a lure, attraction or enticement to, on or over the area which the hunter is attempting to kill or take the deer or feral swine." The conservation enforcement officer can issue a citation if the hunter is hunting by the aid of bait; there is no specific distance or "hidden from sight" structure that will exempt the hunter from receiving a citation if this is found to be the case.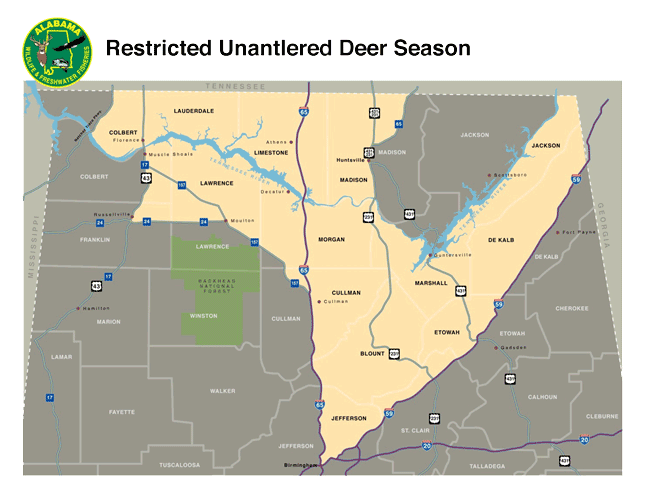 In the state of Alabama you will now have three ways to record deer and turkey harvests for the upcoming year: you can choose to report online, call a toll-free voice response, or report on the new Outdoor Alabama smart phone app. Each harvest report will generate a confirmation number that must be kept in your possession. Harvests must be reported within 24 hours and the confirmation number recorded on your license.
This year's new regulations will give WFF the tools they need to make proactive management decisions to improve our wildlife populations. Coupled with Game Check, the new regulations limiting doe harvests in the north and extending the deer season in the southern portion of the state will help WFF track how the deer herd is responding to changes in management efforts, and adjust regulations accordingly.